Submission
Submission Method
Please log in the Microsoft Submission System; ( .pdf only) to submit your full paper or you can submit directly via email aets@iacsitp.com.
Journal Publication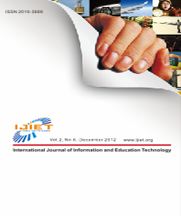 Submissions will be reviewed by both the conference committees and IJIET editorial board, and accepted papers of AETS will be published into in the International Journal of Information and Education Technology as a special issue, which will be indexed by Scopus (Since 2019), EI(INSPEC, IET), Electronic Journals Library, Google Scholar, Crossref, etc. Please follow the template when preparing your full paper.The template is available HERE.



Note: For those who're NOT looking to publish their papers, it's acceptable to submit your abstracts to the conference, which will be sent to at least two techinical committees for a brief review, and it will take about 10 working days. The template is available HERE.
Please follow the format when preparing your paper. Full papers submissions should be with at least 5 pages.
Paper Page Limit
AETS encourages long paper submissions, thus, there is no upper page limit for submitted papers or any charge for extra pages.
Policy on Plagiarism
Plagiarism and self-plagiarism are strictly prohibited. Submitted papers will be checked for plagiarism. If plagiarism is discovered, the paper will be rejected or removed from the program and all authors will be reported to their affiliations.